WELCOME

We are a parish which values worship, scripture, intelligent and informed faith, and are an inclusive community.
St George's is a progressive Anglican Catholic parish which has served the community since 1865 and is a place of worship and outreach in the heart of Malvern. It fosters and supports a spirit of service to others and is committed to social justice and diversity.
Church Closing and Opening during January
The Church office will be closed from 24 December at 12noon and will reopen on 21 January. Brenda Williams will be on leave from 31 December till 11 January. Fr. Ray will be in the office and if you need to make contact with him, please email or ring him, details as follows:
Mobile: 0419 371 613
Email: ray@theclearys.com.au
Emails sent via the office will only be responded every third or fourth day.
Important Update for COVID-19
Religious gatherings of 150 people are allowed to gather inside the church and 300 outside from 22 November 2020. The numbers include any assistance at worship other than the person presiding. Masks must be worn indoors by everyone attending the service, apart from the clergy when they are speaking. Weekday morning prayer will be held on the days listed each week in the bulletin.
If you wish to attend one of these times, please ring Fr. Ray or text him on 0419 371 613. You can also email him on his 'personal' email address: ray@theclearys.com.au.
Please see the Pew Sheet uploaded to this site each Thursday afternoon for the Zoom IDs and Passwords along with further information.
Blessings
Fr. Ray Cleary
ray@theclearys.com.au
0419 371 613
New Vicar - Father Gregory Seach
3 February 2021
The Wardens and parish of St George's, Malvern are pleased to announce that the Archbishop of Melbourne has appointed the Reverend Dr Gregory Seach as the next Vicar of the parish.
Learn More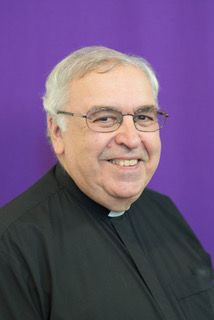 Locum Vicar's Message
Thank you for visiting our website here at St George's Malvern. We hope you will find all you need including regular times for worship, the availability of pastoral support, hospital and home visiting, and details about Baptisms, Weddings, Funerals, and the Interment of Ashes of loved ones in the Garden of Remembrance. Please contact the parish office for more information.
St George's stands within the broad Anglican Catholic tradition and has ministered and served the community since its earliest beginnings in 1865. It has and continues to be a place of worship, prayer, solace, hope and service to the local community and its surrounds.
Services normally follow "A Prayer Book for Australia" and the parish has a strong choral tradition with choir and organ music.
The parish values solid biblical teaching, theological reflection and study, a commitment to justice for all and an openness to the spirit of God for our times. Everyone is welcome at St George's regardless of race, gender, social status, sexual orientation, colour or lifestyle.
The present Locum Vicar is The Rev'd Dr Ray Cleary AM.
Sunday Service Times
8:00am - Eucharist Service
10:00am - Choral Eucharist
5:00pm - Meditation & Eucharist
Where We Are Located
296 Glenferrie Rd
Malvern VIC 3144
Parking:
There is ample car parking on church premises and also on the surrounding streets and public carparks.
Disability Access:
There is disability parking on site, ramp access to the church and lift access available in the St George's Centre