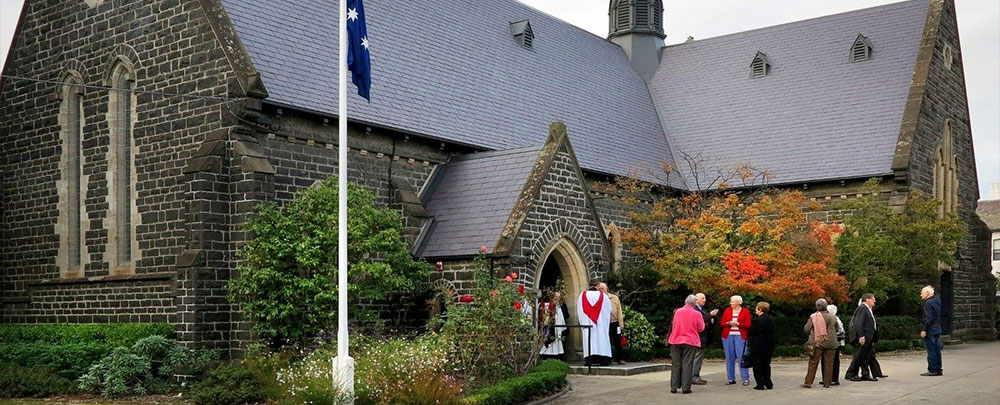 The history of St George's Anglican Church, Malvern
In 1854, Colin Campbell began a Sunday School in his house, later called 'Haverbrack', on Malvern Hill: there the first church services were conducted by the Reverend (later Canon) Henry Handfield of St Peter's Eastern Hill. In 1857, the Malvern Church Committee was granted an acre of land in Glenferrie Road to build a school room, which in 1858 was licensed for worship. The Committee purchased land to the north of the grant, and a member of the Committee, the architect Mr Samuel Merrett, designed a church and a parsonage.
The ground floor of the parsonage was completed in 1867, and the first part of St George's Church (now the nave) with a small chancel and vestry was opened on 19 September 1869. Merrett had chosen the Early English Gothic style, and although he died in 1883 the subsequent architects who enlarged the church with transepts, a bigger chancel, a sanctuary, a new vestry and an organ chamber were faithful to his original design. The completed church was consecrated in 1888.
The western half of the parish hall—now part of St George's Centre—was opened in 1892, and the eastern half in 1926: the parsonage, extended by degrees, received a second floor in 1897. St George's became the parish church for the governors of Victoria from 1901 to 1931, when the governors general vacated State Government House. In 1923, St Martin's Chapel was dedicated as a memorial to the men and women of the parish who had served and died in the Great War.
Read More